
Booking - What is a good online booking platform for your salon
You are a hairdresser, you have a beauty salon, spa, nail studio, massage salon, fitness or gym and you want to offer your customers the opportunity to book their appointments online. The days when you could put a form on your website to let customers book an appointment are over. The options are now so extensive that you will shortcoming your salon and business operations if you do not use them. But what makes an online booking platform good? Strong points have always been that you can book 24/7, that you greatly reduce the number of no-shows by sending reminders just before an appointment. In recent years, the trend has become increasingly strong that, on the one hand, marketing plays a role in for example platforms that advertise on Google in order to acquire new customers and then bind them to an app. But you pay a high price for that by having to pay tens of percentages of your turnover. On the other hand, the administrative side that is starting to play an increasingly important role, salons that automate can look forward to more profit and competitive advantage. Think of your cash register system and online prepayments that are linked to your bookings so that you can make all kinds of financial statements, working time registration of employees, managing inventory and sales and so on. And of course not to forget the customer rating (reviews), the ultimate way to attract new customers and let them book.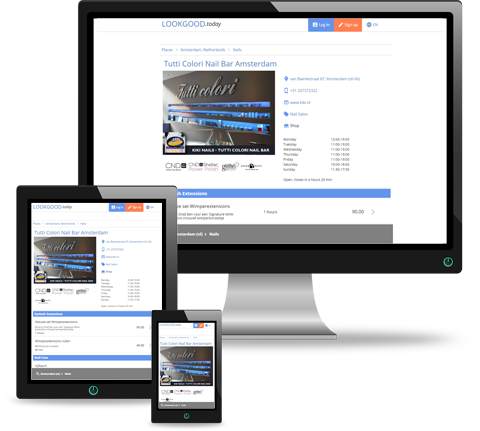 The Agenda is the nerve center of your booking system, you spend almost the entire working day on it. The Agenda must be clear and able to work on any device, in addition to labels and tags, the colors of the bookings can also provide information. You should be able to easily add, move or delete a booking. You prefer to have everything close at hand; your customer data and history, your cash register (POS), your customer cards etc. All points that you should expect from the platform you ultimately choose.
lookgood
.today
tries to cover the whole spectrum as described here and you can think of with online booking, then presenting it in such a way that everyone understands it intuitively.